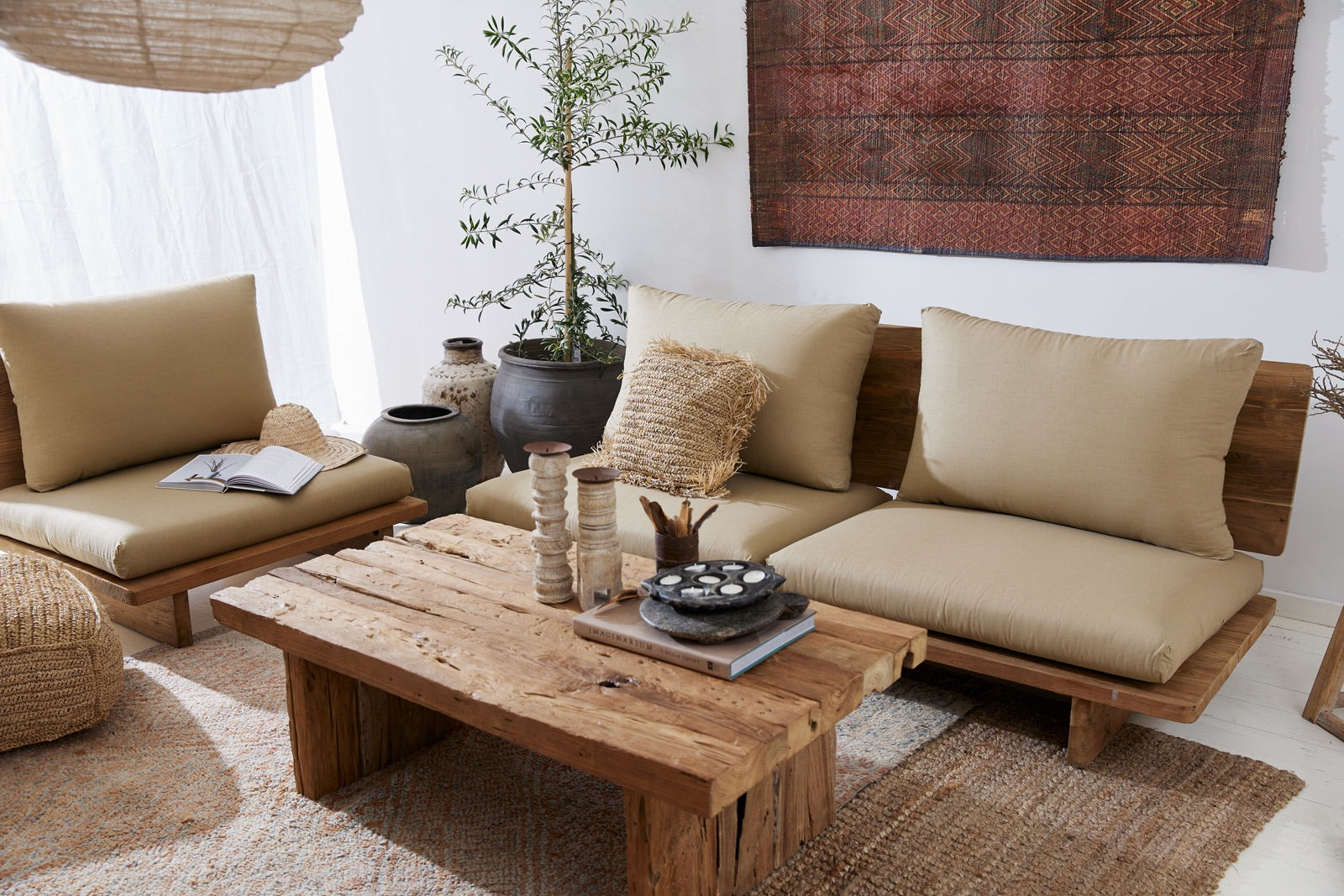 Modern Bohemian
Introduce global elements to your space. The bohemian home is a nod to a nomadic lifestyle: a celebration of the globetrotter.
It's about mixing old and new. It's about collecting different pieces you love and then bringing them together with what you have in a spirited way.
Bring out your creative side with boho home decor
Discover what it takes to truly express yourself within your living space. With bohemian decor, explore a world of colour and character; discover an aesthetic that merges natural elements with textures, and raw and organic pieces, creating something unique and individual. Our styles are varied – vintage rugs from Morocco and unique one-of-a-kind home decor pieces sourced from afar. You will find the perfect pieces for your sanctuary.
Visualise a room where every piece tells its own story and where you can express your individuality through bohemian decor – an eclectic mix of old and new that creates a tranquil yet vibrant atmosphere for all who enter. Imagine being able to instantly improve your mood just by entering the comfort of your home; having an environment tailor-made according to personal taste brings forth positive energy and lets everyone know who lives there!
Browse our collection of bohemian furniture and boho home decor now and get started on designing a personalised escape!
Read More...
Looking for ways to create a dreamy and inviting boho home?
Boho home decor is a great way to make your living space feel inviting, warm and personalised. It's all about keeping things simple yet making a statement with your chosen pieces – think oversized mirrors, texture and natural patterns. Contrast can be used to great effect; if you want something more light and airy, add some dark pillows for a dramatic pop of colour. You can make any room look totally unique and personalised with the right design elements – and we've got all your needs covered.
With this style of decorating, you'll have plenty of opportunities to express yourself while creating something that looks beautiful in any setting. So many design elements are waiting for you just around the corner to help you create your dream boho home!
Bring free-spirited style to your living space with boho home decor!
Whether you're a fan of eclectic home decor and furniture, rustic textures, or vintage rugs, we have just the thing for you. Our pieces are as unique as the hands that have made them, hand-crafted and sourced to ensure they embody traditional bohemian vibes. From statement vintage Moroccan and Turkish rugs to light pendants to consoles and sideboards from India and one-of-a-kind boho home decor pieces, our collection has something for every boho enthusiast.
Give your home an effortless makeover and show off your unique sense of style with our carefully curated selection of boho home decor elements. Live life as you choose from a range full of organic, raw and textured pieces – one that celebrates individuality and freedom above all else!
Add personality to your space with boho mirrors and boho rugs
Boho mirrors are the perfect way to add personality and light to any room. From our one-of-a-kind hand-carved vintage mirrors from India to our streamlined teak mirrors showing off their natural grain, you can find a mirror that expresses your style in our selection of unique boho mirrors in-store or online. With large-scale designs that create an open feel, these beautiful pieces enhance traditional decor or stand out on their own
Another way to add a touch of personality to your home is one of Barefoot Gypsy's boho rugs. Step one in creating your dream home décor, we have all sorts of rugs available to order online or in-store – browse vintage Moroccan Rugs or Turkish Hemp rugs that will give any room in the house a stylish boho feel. Why settle for more of the same when you can create something unique with our selection of boho rugs?
Nothing beats being surrounded by items that truly speak to you and reflect your style.
Browse the entire collection of Barefoot Gypsy pieces online or in-store today, with shipping available Australia-wide.
Shop our range of modern bohemian pieces, or take a look at our coastal home decor collection.