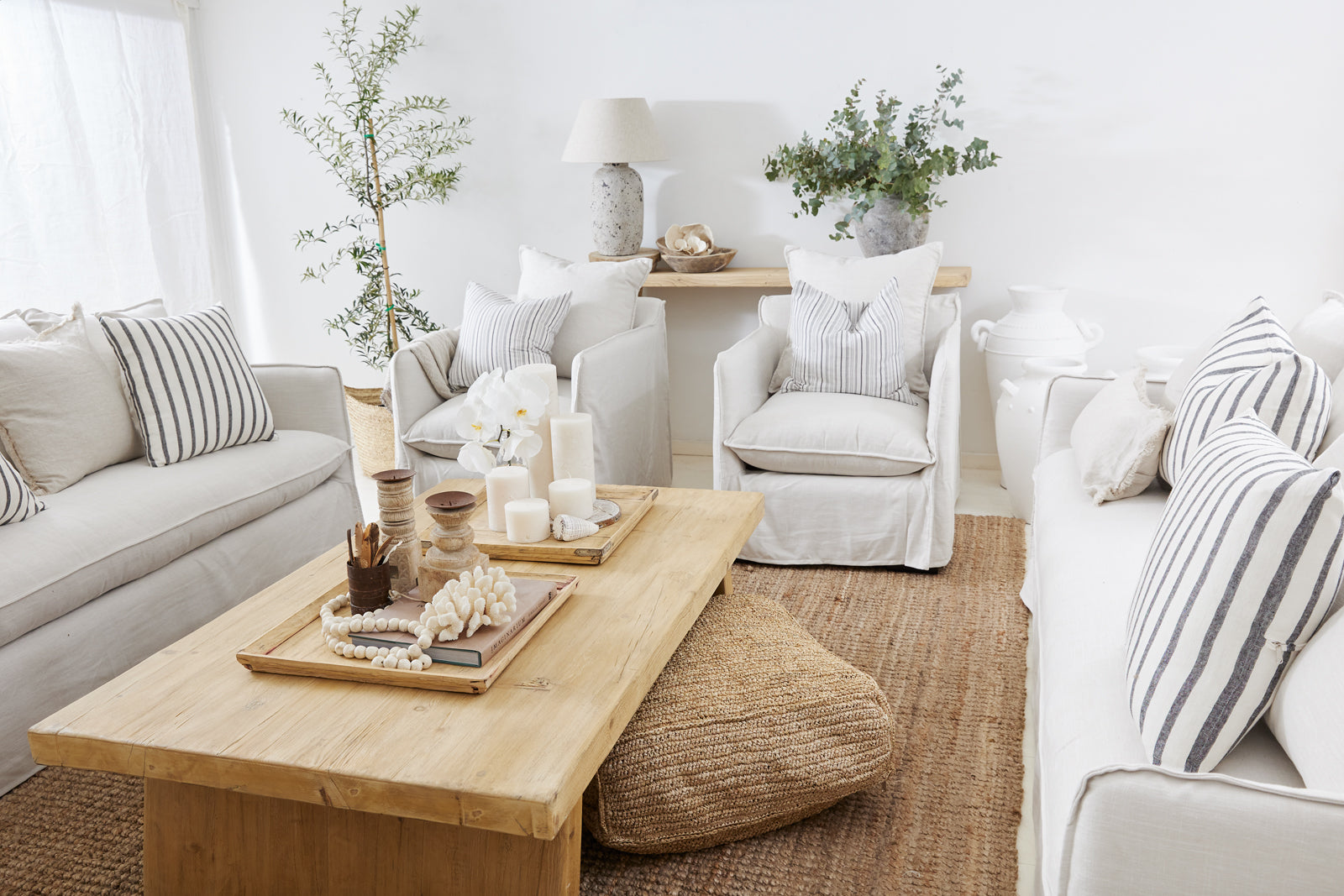 Coastal Luxe Style Furniture & Homewares
Transform a space into a home with Barefoot Gypsy's coastal style furniture and homewares. We bring a carefully-curated collection of coastal luxe homewares and beautiful furniture pieces to add natural textures and vintage appeal to your home. Each piece is carefully selected and thoughtfully sourced from around the globe.
Create an inviting space with coastal decor pieces
Coastal decor in Australia has everything you could need for the perfect beach-inspired abode. From artisanal craftsmanship furniture and one-of-a-kind vintage pieces to linens and accessories, we offer a carefully selected range of styles from around the world that bring natural texture and vintage appeal into any space.
With our collection, you can easily create an atmosphere that embodies modern bohemian luxury and relaxed ocean vibes!
Our products add warmth to your interior while creating a cosy retreat where you can kick back after a long day at work or spend quality time with friends and family. Experience all the beauty of seaside living without leaving your home; embrace true relaxation in style with coastal décor for your home in Australia.
Read More...
Looking for the perfect pieces to complement your coastal home decor
Our collection of carefully curated coastal home decor and furniture pieces from around the globe will bring an organic, neutral, laid-back coastal vibe to any space. We have everything from statement, one-of-a-kind furniture pieces to textiles and vintage rugs to enhance your existing coastal home decor pieces. Plus, with our detailed guide on how to use our products in an inspiring way, you'll be creating your very own piece of paradise in no time!
Embrace serenity with coastal boho décor
Our collection of coastal boho decor can help you create a space that's filled with tranquillity and serenity. Natural timber furniture, soft furnishings made from raw materials, and calming neutral colours like white, cream or beige will give your home a tranquil atmosphere perfect for relaxation and rejuvenation.
From cosy bedroom retreats to dining rooms filled with serenity, coastal boho decor has something for everyone! Take some time to discover pieces that will bring comfort while reflecting beautiful vibes throughout your living spaces. After all, we believe the right decor should express who you are – not just what looks good in a picture frame.
Add a touch of natural raw beauty and coastal vibes into your living space; with coastal home decor, you're guaranteed to get the style you want while transforming your home into a relaxing oasis unlike any other.